Siglo: Fashown!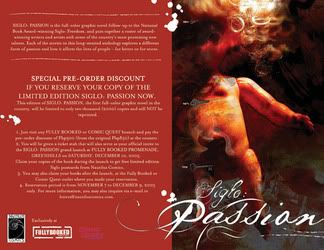 It's December 10, Saturday, today, according to my little computer clock. That means anyone interested in comics and/or speculative fiction should go to the Greenhills Promenade branch of
Fully Booked
later at 6:30 PM, where they're launching three books:
Siglo: Passion
(from Nautilus Comics),
Project: Hero
(Quest Ventures), and
Philippine Speculative Fiction, Vol. 1
(Kestrel). I'm one of the writers of
Siglo: Passion
-- I wrote a script set in the future, involving artificial realities, real friendships, and a giant guinea pig, that was illustrated by the very skilled Jonas Diego. Other contributors include Gerry Alanguilan, Quark Henares, Dean Alfar, Reno Maniquis, Jeremy Arambulo, Lan Medina, Carlo Vergara, Marco Dimaano, Leinil Francis Yu, etc. According to
Click the City
:
Siglo: Passion
is the sequel to the National Book Award-winning anthology
Siglo: Freedom
. This time around, the book explores the passions of the Filipino people, from food to family, from religion to nation, through twelve stories set across one hundred years of history and beyond. The launch price is Php 500, and it will apparently sell post-launch for Php 850. More on
Siglo: Passion
at the
Nautilus Comics site
and
Dean's blog
.
Project: Hero
(Php 120), as the name implies, is a comics anthology featuring new Pinoy superheroes, and
Philippine Speculative Fiction
(Php 300) is a collection of mind-expanding short stories by Cyan Abad-Jugo, Gabriela Lee, Ian Casocot, and Sarge Lacuesta, among others. Be there or be... not there.