Strait-Jacket Vividly Depicts Axe-Murders!
A net friend recently gave me William Castle's Strait-Jacket as a gift.
Wow! The movie was a hoot to watch. Ms. Crawford was just unbelievable in her role. Kumbaga, the excesses that she did with her dramatic movies were wrought with the same aplomb in this horror flick by gimmick-meister who we know as William Castle (yes, he did gimmicks with his movies. For instance, sa The Tingler kung me eksenang nakakatakot ay me konting electric jolt sa upuan kumbaga kukuryentehin niya ang pwet niyo kaya nga siguro "The Tingler" ang title ng pelikula niya).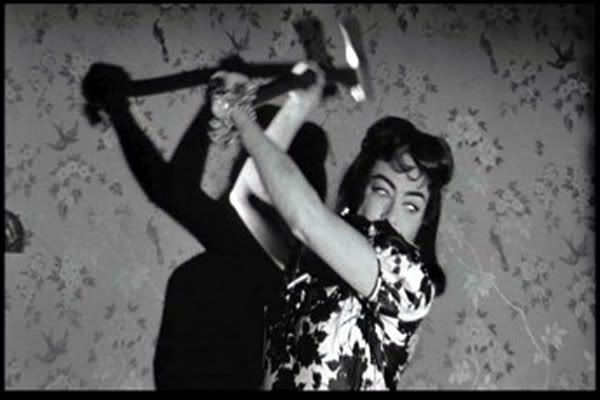 It's pretty obvious din na Crawford had control over the production, kasi lahat ng key scenes eh andun siya (maski na hindi na siya gaanong kailangan), pero dahil siya lang naman ang matatawag na star dun eh kebs na sa script at
sa director. She made the movie to fit her own vision at image. My gulay, I hope we get more stars na ganun. Kasi, in the movie it was so bizarre to see ms.crawford (then pushing 60) acting like she was only 25! She flirts with a man younger by 30 or 40 year than her! Oh well, those were the days. One can only relive it! Johnny Guitar na lang pala ang kulang!
For me, it's a recommended viewing. As in
A++