Song Stories
Was searching for new Aimee Bender material (thanks for lending me the book of short stories, Indira; my class enjoyed "The Reememberer"), when I came across this: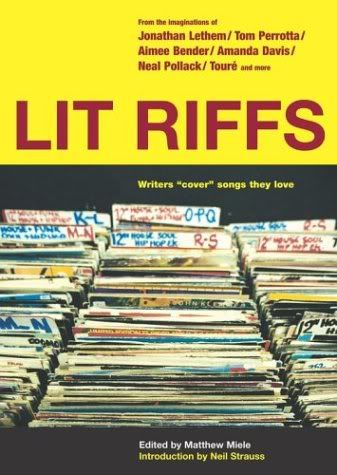 Twenty-four celebrated writers have penned stories inspired by great songs... the diverse, electrifying stories here use songs as a springboard for a form dubbed the lit riff... You'll find stories by J.T. LeRoy, who puts a recovering teenage drug abuser in a dentist's chair with nothing but the Foo Fighters's "Everlong" -- blaring through the P.A. -- to fight the pain; Jonathan Lethem, whose narrator looks back on his lost innocence just as an extramarital affair careens to an end -- this to the tune "Speeding Motorcycle" as recorded by Yo La Tengo; and Jennifer Belle, who envisions a prequel to Paul Simon's "Graceland" -- one that takes place at a children's birthday party replete with a real live kangaroo. With original contributions from Tom Perrotta, Nelson George, Amanda Davis, Lisa Tucker, Aimee Bender, Darin Strauss, and many more -- riffing on everyone from Tom Waits and Bruce Springsteen to the White Stripes, Cat Power, and Bob Marley -- this is both an astounding collection of short stories and an extraordinary experiment in words and music.
Needless to say, the concept interests me greatly. And besides -- Bender! Lethem! Perotta! Yay! I had an idea for a book almost exactly like this over a year ago (specifically: at the listening party for the 2nd Linkin Park album, when I was bored and doodling on a table napkin), involving local writers making stories inspired by/based on work by local musicians. The book would be packaged with a CD, etc etc. At the time, I had an idea for a story based on "Another Day" by Narda. Ah well. So much to do, so little done.