Life among the morlocks
Several years ago, I wrote a story called "Subterrania," about a girl who decides to cut herself off almost completely from the outside world, and just stay in her room, for presumably the rest of her life. At the time, I thought I was writing one of those quirky, CW 111-type stories, to be classified under "non-realistic fiction." It was after the story was published and won a prize that I learned that such self-imposed urban isolation was, in fact, something of a phenomenon in Japan.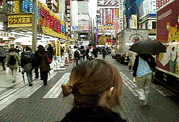 The word for these "adolescents and young adults that feel overwhelmed by the Japanese society, feel unable to fulfill their expected social roles, and react with social withdrawal" is hikikomori. And now, well, there's even a movie. (Lord knows if it's any good; the plot doesn't seem promising. But then again I suppose many of my favorite films would sound stupid when reduced to a two-paragraph summary).
Anyway, rereading "Subterrania," it's kind of nice to recognize the state of mind I was in at the time I wrote it, to remember what inspired it (sunless weeks semi-working over a pointless thesis, and general withdrawal from most social activities), to know that the prospect of becoming hikikomori-like was once oddly appealing, and to realize that, for one reason or another, I don't feel like that at all, these days.